Welcome to the Sydney Live Steam Locomotive Society!
The Sydney Live Steam Locomotive Society was formed in 1948 on its present site. We are located on the corner of Anthony Rd and Betts St behind West Ryde shopping centre in Sydney, New South Wales, Australia and open on the THIRD Saturday afternoon of each month from 1.30pm to 4pm..

We are excited to announce our very popular Steam Train Rides have returned to normal service! However our entry arrangements have now changed. We now have an online booking arrangement for entry and, once inside our grounds, an EFTPOS facility for the purchase of ride tickets.

You must book in advance to enter our Grounds.

Entry prices are $5 for adults, $2.50 for children, and babies are free. Payment for entrance must be made at the time of booking – there will be no cash payment facilities at the gate.
Entry tickets are available for booking on the Monday 11 days before our Running Day.

Our Kiosk will need to remain closed for the moment, so bring along refreshments you need, however all three of our railways will be in operation.
Ride tickets are separately purchased from our ticket office once you have entered. Each ride ticket is $2.50, with contact-less card payment facilities in use.
Ride tickets are not refundable
– you may use any left over at your next visit to us.
We ask all visitors to remain mindful of the Covid social distancing requirements when on our Grounds. Please treat all our visitors and our members with respect.
A recorded telephone message with information is provided on (02) 9874 8696. We may have an exemption to run on days of Total Fire Ban.
Address:
Cnr Anthony Rd & Betts St
West Ryde, NSW 2114
(next to West Ryde Marketplace)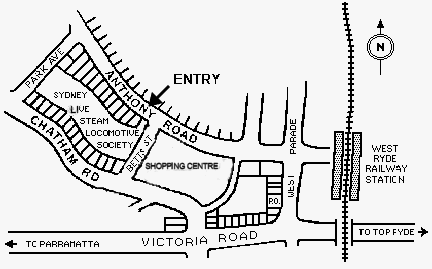 We require train passengers to wear fully enclosed footwear. Please don't be disappointed! Appropriate footwear reduces the risk of injury!